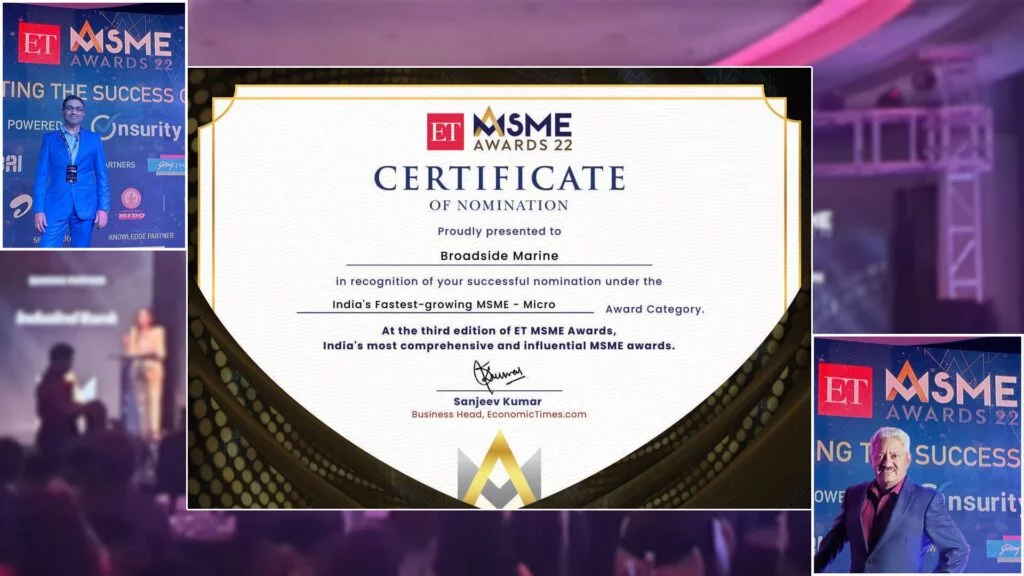 At Broadside, we take immense pride in the recognition and accolades we've received for our unwavering commitment to excellence and innovation. Our journey is marked by milestones that symbolize our dedication to growth and progress. We are delighted to share with you some of the prestigious awards and honors that have come our way, shining a spotlight on our achievements.
The ET MSME Awards, hosted by Economic Times, stand as a testament to our dedication and unwavering commitment to business excellence. These awards celebrate the outstanding contributions made by Micro, Small, and Medium Enterprises (MSMEs) to India's socio-economic growth and prosperity. It is a platform that identifies and applauds the businesses that are instrumental in shaping the future of our nation.
The ET MSME Awards are an initiative by ET Digital, a platform that is synonymous with quality journalism and insightful analysis. ET Digital brings together a wealth of knowledge and expertise to identify and honor the best of the best in the MSME sector. These awards encompass a wide spectrum of achievements in the manufacturing and services sectors, covering 26 distinct awards in five broad categories.
We are thrilled to announce that Broadside has been honored with a prestigious nomination at the ET MSME Awards. Our dedication to growth and excellence was recognized under the coveted 'India's Fastest-growing MSME – Micro' category for the year 2022. This nomination signifies our relentless pursuit of success and our commitment to contributing to India's economic growth.
We extend our heartfelt gratitude to all our employees, partners, and clients who have been an integral part of our journey. It's your support and dedication that have made this achievement possible.
At Broadside, we are constantly inspired to reach new heights and set higher standards. This nomination at the ET MSME Awards only reaffirms our commitment to innovation, quality, and excellence.We invite you to join us on our journey of excellence as we continue to push the boundaries of what's possible. As we strive to set new benchmarks in the industry, we are grateful for your continued trust and support.
Stay tuned for more updates, and thank you for being part of our success story.
For inquiries, partnerships, or any other information, please feel free to Contact us